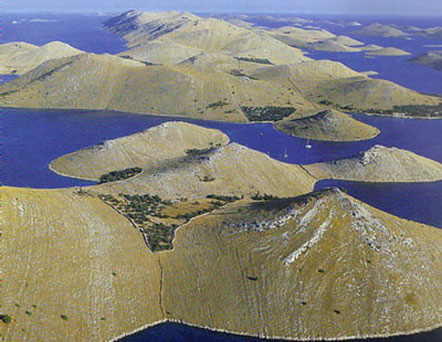 Kornati archipelago
The Kornati archipelago with its 140 islands is the densest archipelago in the Mediterranean in an area of about 32o square kilometers. It was named after the largest island of Kornati.
In 1980, 109 of the southernmost of the 14 or so islands, islets and reefs of the Kornati archipelago were declared a National Park. This put the islands and their marine environment under protection.
There are no permanent settlements on the Kornati. Simple dwellings in well-protected bays such as Vrulja, Kravjačica and Lavsa are used by the local population from the mainland as temporary shelters.
The most common animals are sea gulls. There are also several species of lizards, snakes, 69 species of butterflies and some amphibians and rodents. The vegetation is dominated by macchia.
The Kornati archipelago is located in the northern part of Dalmatia, south of Zadar and west of Šibenik in Šibenik-Knin County.
You can only visit it by boat. Book your boat via Kornati Yachting. If you do not have a license to operate a vessel, we can also offer you licensed skippers who will take you through the archipelago.
Sailing, scuba diving or bottling, swimming, hiking.
shallow canal Mala Proversa
ovalni island Taljurič
Bay Špinuta
Bay Stivina
island Levrnaka (4. najveći)
kraško area Tarac
Svršata
Veli island
island Mana
island Piškera
island Panitula Vela
the picturesque bay of Lavsa
island Ravni Žakan
island Smokvica Vela
peninsula Opat
island Samograd
island Purara – special protection zone, prohibited detention of people and vessels
island Vrgada
island Gangarol
For more information, visit the website of NP Kornati www.np-kornati.hr
Map of the Kornati archipelago